Why Choose Rosenblum Law For Your Name Change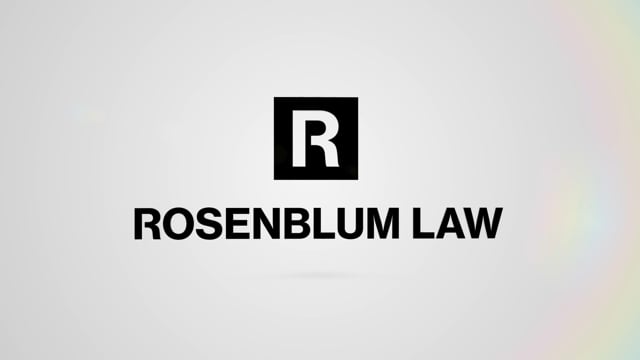 Simplifying the Complex
Like most legal procedures, name changes involve a number of steps, each must be followed correctly or the petition will be dismissed. We simplify the process for our clients so it's as easy and stress-free as possible.
Proven Track Record
With a 97% success rate across all practice areas, we have a winning track record. While past results don't guarantee future outcomes, our attorneys will invest maximum effort in you and your case to do everything we can to produce the best possible outcome.
Our Client Testimonials
For over 15 years, we've been A+ rated by the Better Business Bureau and have over 500 positive reviews (5 out of 5 stars) on several independent websites, such as Google and Avvo. We're proud of what our former clients have to say about our law firm, which is a testimony to our hard work.
Our Name Change Process
Contact our firm
You'll be connected with a trained specialist to guide you through the name change process and what's required.
Step-1
We prepare the Petition
We send you an online questionnaire, draft the Petition, and provide you with a copy for review prior to filing.
Step-2
Judicial review
A judge will review the Petition (approx. 5 months) and issue a hearing date.
Step-3
Court appearance
Our team will prepare you for court and attend court with you as your advocate.
Step-4
Your new name is official!
The Judge enters a Final Judgment and we request 3 certified judgments that you can give to government agencies to change your name in their systems.
Step-5
Frequently Asked Questions
How long does a name change take?
Different counties and different courthouses within counties have their own schedules. The process can range from a few weeks to almost a year depending on the location.
Why would a judge deny a name change?
The most common reason for a judge to deny a name change is if he or she suspects that the applicant is trying to hide from police, creditors, or child support obligations. Judges might also deny a request to change to an offensive name or one that might cause confusion with a celebrity or large company. A name change for a child might also be denied if the judge does not find it is in the child's best interest.
What can I do if my name change request is denied?
If your name change is denied for procedural reasons, such as incorrectly filed paperwork, you'll need to start over, which means paying the filing fee again. If your name change was denied because the judge suspected fraud against the police or creditors, you'll need to appeal the decision. Appeals are even more complicated than an ordinary name change, so it's usually a very good idea to have a lawyer.
What if I can't afford to pay the filing fee?
If you can't afford to pay the filing fee, you can ask the court for a fee waiver, which is sometimes called "Poor Person's Relief." However, this waiver only applies to the court's fee; the newspaper will still charge you to publish your notice.
Can I Change the Name of My Child?
New York does allow parents to change the names of their minor children. The process is similar to the one for adults, but it also requires the consent of the child's other parent. Additionally, if the child is 14 or older, the name change requires the child's consent as well. There is also slightly different paperwork involved.
There are many reasons why a person might want to change their name. In New York, anyone can file a petition with their county supreme court for a name change. However, as simple as the process seems, there are several hidden complications that make it worth consulting an attorney before beginning the process.
A name change in New York is a multi-step process. It's important to note that performing some of these steps incorrectly might result in having to start the process over, which means paying the filing fee again and waiting several more months for a name change. For this reason, it's a good idea to check with an attorney to make sure that everything is done correctly the first time.
Learn how our attorneys can help you.
Call us now for a free consultation:
888-815-3649
We offer flexible payment plans
How to Change Your Name in NY
Fill out the forms

New York requires three forms for a name change: a Name Change Petition, a Proposed Order, and a Request for Judicial Intervention to have a judge assigned to the case. The Name Change Petition must include the reason for the name change and whether the person has any criminal convictions, pending civil judgments, or past bankruptcies. The forms must also be notarized.

Make copies of the forms before filing

In case there's a dispute later on, it's a good idea to make copies of the forms so that one knows exactly what they filed.

File the forms and any attachments

Once the forms have been filled out, the person seeking a name change must file them with their county supreme court, or, for New York City residents, the New York City Civil Court. Some counties allow electronic filing, while others require forms to be mailed. County supreme courts charge a $210 filing fee, while the New York City Civil Court charges only $65.
In addition to the forms, a person must file a proof of birth, such as a birth certificate, and potentially other documents as well. Anyone with criminal convictions must include the Certificate of Disposition for each offense, and anyone with a past bankruptcy must include the judgment of bankruptcy. Anyone with a civil judgment or child support order against them must also include them in the name change application.

Wait for the response

Within the next six months, the court will reply to the name change request. It's possible to receive an approval at this stage, but most of the time, a person will be told to come in for a hearing before a judge.

Attend the hearing

When attending court, be sure to dress appropriately and be polite and respectful to everyone in the courthouse. In addition, bring copies of all documents in order to accurately answer questions the judge may have. Here is where having an attorney can be the most helpful. An attorney can handle some of the questions the judge may ask and issue responses that are likely to persuade the judge to make a favorable ruling.

Publish the name change

If the judge approves the name change, he or she will order the person to publish their name change in a local newspaper within 60 days. The exact newspaper will vary based on the area; the judge will tell the applicant which one to publish in. The newspaper will charge a fee for this service.
The judge may also require the applicant to notify other parties of the name change, such as immigration authorities, a bankruptcy court, or an ex-spouse.
Once the newspaper has published the notice of the name change, they will provide the applicant with an Affidavit of Publication.

File the Affidavit of Publication with the county clerk

The final step is to file the Affidavit of Publication from the newspaper with the county clerk within 90 days after receiving the name change. Once this is done, the person may begin using their new name.
Name Changes Involving Marriage or Divorce
The process for name changes in marriage and divorce is simpler. When a person is married, they can request a name change along with the marriage certificate. Name changes during a divorce can also be handled as part of the divorce proceedings without having to request a name change separately.
Editorial Standards
Rosenblum Law is committed to delivering informative content of the highest quality. All content is subject to our rigorous editorial standards for relevance, accuracy, sourcing, and objectivity. Everything is fact-checked by an editor and reviewed for legal soundness by one of our practicing attorneys prior to being published.