New Jersey Criminal Lawyer
Criminal Defense Attorney in NJ focused on fighting for your freedom. If you or a loved one has been charged with a crime (misdemeanor, felony, or disorderly persons) contact us for a free consultation.
Get A Free Consultation Today
Why Choose Rosenblum Law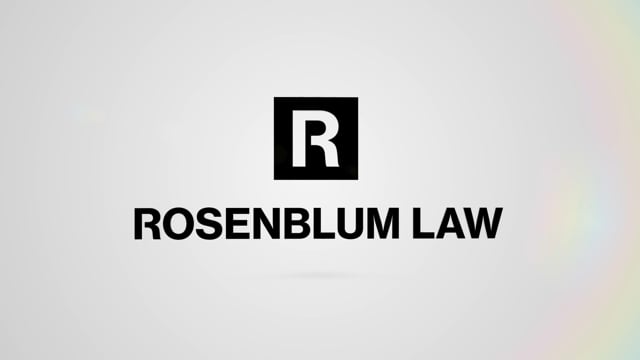 Over 25 Years of Combined Experience
At Rosenblum Law, we have had the privilege to serve thousands of clients all throughout New York and New Jersey. Each case is assigned to an experienced attorney with a full-time case manager for the best possible representation.
Proven Track Record
With a 97% success rate across all practice areas, we have a winning track record. While past results don't guarantee future outcomes, our attorneys will invest maximum effort in you and your case to do everything we can to produce the best possible outcome.
Our Client Testimonials
For over 15 years, we've been A+ rated by the Better Business Bureau and have over 500 positive reviews (5 out of 5 stars) on several independent websites, such as Google and Avvo. We're proud of what our former clients have to say about our law firm, which is a testimony to our hard work.
Our Process For Criminal Cases
Contact our firm
Speak to an experienced attorney to understand your legal options, possible resolutions, and cost of representation.
Step-1
We build your case
You will be partnered with a full-time case manager and dedicated attorney. We will form a strategy to tackle your case in the best possible way.
Step-2
You attend court with counsel
Your experienced attorney will attend all court appearances with you and advocate on your behalf.
Step-3
We settle your case
Defense counsel will meet with the Prosecution in an attempt to reduce the original charge(s) or dismiss the matter. If an agreement cannot be met, your attorney will represent you at trial.
Step-4
Move on!
After having your case completed, you can put this experience behind you and move on with your life having peace of mind.
Step-5
Get A Free Consultation Now
Client Reviews
Read reviews from our clients below
Frequently Asked Questions
What's the Difference Between Private Lawyers vs. Public Defenders
Those charged with a criminal offense in the U.S. have the option to request a public defender, rather than hire a private attorney to argue their case. The New Jersey Office of the Public Defender can have some skilled lawyers, but there are many reasons why a person should strongly consider hiring a private attorney:
Lack of choice. One cannot choose which lawyer from the public defender's office one gets. By contrast, a person can select from many private firms, finding an attorney who seems both aggressive and trustworthy.
Experience. Many criminal defense attorneys begin their careers as public defenders. As such, there is a good chance that a public defender will have less experience than those working for private firms.
Time. Public defenders often have significantly higher caseloads than private attorneys. This limits the amount of time they can dedicate to each client. Private attorneys can pick and choose which cases they want to take on, giving each case as much time as it needs.
No free defense. In New Jersey, those who hire a public defender are often still charged a fee for the service.
What Happens During and After an Arrest?
The law defines an arrest as the point when someone is in police custody and no longer free to leave. Usually, this involves the police handcuffing a suspect and driving him/her to a precinct to be booked. Anyone who is being arrested should not struggle, run, or fight the police because this can result in criminal charges for resisting arrest.
The best course of action is to avoid answering questions and contact a lawyer to deal with any charges. Anyone arrested for a crime has a right to remain silent. The police cannot require someone to answer questions without a lawyer present.
Although most people feel the need to tell the police their side of the story, this is a bad idea. Any statements a person makes to the police can be used against him/her in court, but a refusal to answer questions cannot be.
Once a person has been arrested, he/she will be booked at the police precinct. The police fingerprint the person and take a mugshot. For some minor offenses, a person might be sent home with an order to appear in court at a certain time. In other cases, the person can be held in jail for up to 48 hours before his/her first appearance in court.
During this time, the person will have a chance to make a phone call. He or she should use this phone call to contact a lawyer or have family contact a lawyer.
The next step is the first appearance. At a first appearance, the person is brought before a judge and notified of the accusations against him/her. The first appearance is where the judge decides whether the accused will be released or remain in jail before trial.
New Jersey has done away with cash bail in most cases. Whether a person is released at this stage depends on how likely the judge thinks the person is to commit more offenses or flee if released. For that reason, it's a good idea to have an attorney present to argue for bail on behalf of the accused; it can mean the difference between spending months in jail or being free until trial.
How Do Prosecutors Decide Whether To Press Charges?
After the first appearance, the prosecutor decides whether to press charges. This involves investigating the incident that led to the arrest and determining whether the accused likely committed a crime. Depending on the amount of evidence the prosecutor has, he or she might drop, downgrade, or negotiate the charges with the accused's attorney.
An accused's statements to police are some of the strongest evidence a prosecutor can have, which is why it's critical for anyone who has been arrested to use their right to remain silent.
At this stage, a defense attorney may be able to negotiate a deal with the prosecutor. A deal might involve the accused agreeing to enter a substance abuse program or diversionary program in exchange for having any charges dropped. In other cases, the accused will be allowed to plead guilty to lesser offenses and receive a reduced sentence.
If there is no deal, the prosecutor will file an indictment against the accused. The indictment lists the specific charges the accused will face. Once indicted, the accused person is entitled to an arraignment before a judge.
What Happens Once Charges Are Filed?
Before the arraignment, the accused and the accused's lawyer will receive any evidence the prosecutor has. At the arraignment, the accused will plead either guilty or not guilty. A good criminal defense attorney will be able to evaluate the evidence and determine whether the accused should make a plea deal or go to trial.
If the accused pleads not guilty, the prosecution and defense will conduct investigations and build their cases. New Jersey guarantees the right to a speedy trial, but in some cases it may be better for the accused to waive that right to get more time to build a case. The accused also gets to decide whether the trial will be in front of a jury or a judge. A good defense lawyer will know whether an accused should waive the right to a speedy trial and/or a jury.
Evidence can be thrown out in the pre-trial stage if the police or prosecutor violated the accused's constitutional rights during or after the initial arrest. Examples of constitutional violations include illegal searches or interrogating the accused without notifying him/her of the right to remain silent. Sometimes, the loss of this evidence can sink the prosecutor's entire case. Constitutional arguments like this can be very technical, but experienced lawyers know how to make them.
What Happens At A Trial?
At trial, the prosecutor has to prove that the accused is guilty beyond a reasonable doubt. This is done by examining witnesses and presenting physical evidence. It's vital to have a good defense attorney at trial. The defense attorney can cross-examine the prosecutor's witnesses for inconsistencies in their stories and present their own evidence to make the judge or jury doubt the prosecutor's case. The accused does not have to testify at his/her own trial. A defense attorney can tell whether it's a good idea for the accused to testify.
The judge or jury, depending on the trial, will return a verdict of guilty or not guilty. If the accused is found guilty, there will be a separate hearing to determine the sentence. At a sentencing hearing, the prosecutor and the defense lawyer will present arguments to a judge. Once again, it's critical to have a good defense attorney at this stage. The judge usually has a good amount of discretion to decide the sentence, and a good lawyer can make persuasive arguments to reduce the sentence as much as possible.
If the judge made a mistake during a trial and the accused was convicted, it's possible to appeal the verdict. Common mistakes include incorrectly admitting or excluding evidence or improperly instructing the jury about the law. However, the appeals court will only hear appeals if the accused objected to the mistake during the trial. A good defense lawyer will be able to spot trial mistakes instantly and object to them, preserving any possible appeals.
What To Do If You Have Been Arrested?
A person arrested should remember certain key advice in order to maximize the chances of having charges dropped, reduced, or being acquitted.
Exercise the right to remain silent. This is the most commonly issued and most important advice for those who have been arrested. Being silent is not enough; someone who has been arrested should specifically request an attorney or tell the police that he/she is exercising the right to remain silent. The Supreme Court has held that the police must stop asking questions once a suspect has invoked the right to remain silent or asked for an attorney. Do not answer any questions, sign any papers, or offer any information of any kind.
Be cooperative. Beyond speaking or signing papers, a person should comply with reasonable requests by police, including being restrained, moving to different rooms, taking mugshots, etc.
Call an attorney. Once a person has been processed, he/she is usually permitted to make a phone call. If one does not wish to use a public defender, then this call should be used to contact a criminal defense attorney.
How to Hire a Good Criminal Lawyer?
Selecting an attorney may seem like a daunting task, but it doesn't have to be. There are several key things a person should look for in order to ensure that one's attorney is a good fit. These include:
Experience with the kind of charges. Many attorneys specialize in different offenses, such as violent crimes, domestic violence, theft-related charges, etc. Ask what the lawyer has defended before and if the charges in question are something he/she is familiar with.
Pricing structure. While it may be tempting to look for a low-cost attorney, it is better to seek an attorney with a reasonable pricing structure that allows for low monthly payments. This ensures one can get quality legal counsel without going broke.
Handling of the case. It is important to know who and how many people will be working a case. More is not always merrier when it comes to criminal defense; a smaller law firm may be able to devote more personal attention to your case than a larger one.
How to Expunging a Criminal Record?
criminal record can cast a shadow over the rest of one's life. The digital age makes digging up arrests and convictions easy for employers, landlords, schools, and more. This is true even if it has been years and one has not been accused of a crime since.
Thankfully, some people can clear their criminal record. New Jersey calls this process "expungement." Essentially, a person can have part or all of his/her criminal record isolated so that only a small handful of government organizations can see it.
The basic requirements for an expungement are that a person have completed the terms of his/her sentence and have not been charged with other offenses for 5 or 6 years. There is also a limit on how many offenses a person can have on his/her record and the kind of offenses that are eligible.
Receiving an expungement can open all new doors to one's life both personally and professionally. However, the process can be difficult to navigate without help. For this reason, it is wise to seek help with the process from an experienced expungement attorney.
More Resources
Mar 11, 2013
Shoplifting in NJ: What to do when you get caught.
Mar 15, 2017
Can You Get Arrested for Stealing Office Supplies?
Get A Free Consultation Today
Editorial Standards
Rosenblum Law is committed to delivering informative content of the highest quality. All content is subject to our rigorous editorial standards for relevance, accuracy, sourcing, and objectivity. Everything is fact-checked by an editor and reviewed for legal soundness by one of our practicing attorneys prior to being published.